Every year when it gets close to Christmas I have to stop posting pictures because I am either working on Christmas presents for my family or for my customers.  I wouldn't want to spoil the surprise and try to be very careful and considerate about posting pictures before the gift is received.  So after Christmas I can finally reveal what I've been working on!  Here you go:
DAY 1 – Battenburg Lace (Design EmbLibrary) – These free-standing lace pieces are meant to go on a pair of jeans.  I gifted them this way so that the wearer of the jeans can decide where she wants them.  Then I will stitch them in place.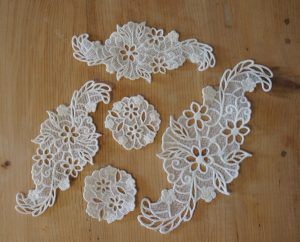 DAY 2 – This embroidery is on the back of a zip-up sweatshirt for one of my regular customers.  He's going to rehab after Christmas and wanted something to remind him of his band.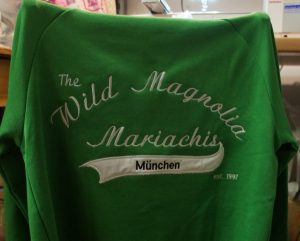 DAY 3 – There are 20 of these scarves – each with a personalized tag – the initials of all the people who work in the department.  I can't embroider directly onto this stretchy knit material without risking a tear when it gets stretched, so we came up with the idea of making tags. This was their Christmas present from their department.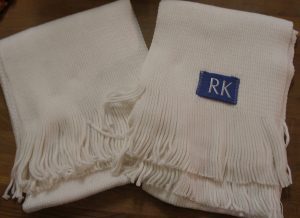 DAY 4 – What's better than a cool bag to carry your sports equipment?  A cool bag with your name on it!  So here you go!
DAY 5 – People like to give aprons for a variety of reasons – sometimes it is to encourage someone else to cook more, sometimes it is to help the cook stay cleaner.  Sometimes it is just for fun.  No matter what the reason, it's always a great idea!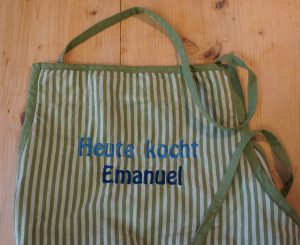 DAY 6 – Here's another apron that will be given this Christmas.
DAY 7 – Sometimes just a little something can make a plain t-shirt a lot more meaningful.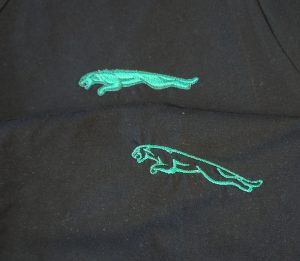 DAY 8 – If there two robes hanging in your bathroom and they both look the same, what should you do?  Get them personalized with a monogram!  That way you can always tell them apart.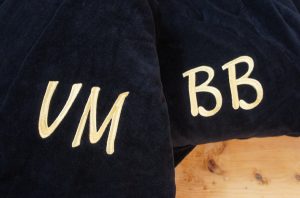 DAY 9 – This lightweight linen throw takes on a special meaning with a personal message.  Tone in tone it's not very obvious, but it is still there.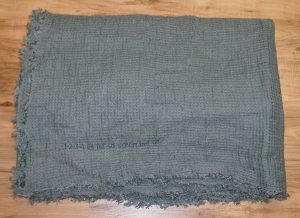 DAY 10 – Admittedly I didn't make these t-shirts.  But I did have the idea!  They were made by my friend Eve from Reinette BlaueMannschaft.  She does silk screening with some great artwork and I knew that my kids would love these!
DAY 11 – Grammie has just moved and now she has a sign to welcome guests to her new home.  I bet she'll think of her family every time she sees it!
DAY 12 –
Journaling is really in right now.  But it is more than that.  As you get older you realize that you can't possibly remember everything and it is nice to have a written record of certain events.  Here's a personalized journal cover to help inspire you based on a picture of a cabin in the mountains. It's always fun to have a book there to sign in or out and let people know when you were there, how the weather was and what you were up to. I sure hope the recipient likes it!