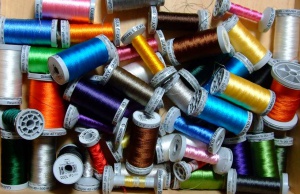 Q: Why did you choose the name '40 Stitches'?
A: When I registered my embroidery and textile business a lot of the designs I was stitching had 30,000 stitches or more. But that just doesn't sound so good! So I chose 40 Stitches for simplicity's sake.
Q: What kind of products are there?
A: Almost anything you can imagine. I can embroider on a wide variety of blanks – towels, aprons, t-shirts, bags or I can sew the products from scratch, like most of my pillows.  I also do free-motion embroidery – it looks more hand-drawn and results in very unique products.  Plus, I love to quilt!  So I can offer you simple quilts like baby quilts or make you a memory quilt from old t-shirts or other old clothing.  If you don't have enough old clothes for a quilt, then you can order a pillow case.
Q: How much does it cost?
A: That is really hard for me to answer without knowing specifically what we are talking about.  Embroidery prices start at 6 Euros regardless of how small the embroidery is. This is because it takes time to set up the embroidery file, transfer it to the machine, hoop the textile and actually stitch out the design and because of the materials like thread and stabilizer that are involved.
If you are asking me to digitize a logo then there is a standard one-time charge for digitizing which is Euro 20. After the design has been digitized we can use it at any size over and over again.
If you send me the design with your desired dimensions I will be glad to send you a quote.
For quilts I also need to know more about what you imagine. But here again, I am glad to make you a quote.
Q: How long does it take after I order something?
A: Usually I can finish a machine embroidered product within a week. However, if I have to order the blank, then it can take a little bit longer.  For quilts and pillowcases out of old clothes you need to plan ahead – a pillowcase can be done in about a week, but a whole quilt might take up to 6 weeks.
Q: Is it possible to have a design digitized?
A: Generally, yes. Of course it depends on the design. The size of the embroidered area is limited by the frame (no wider than 15 cm / 6 in) and embroidery in general has some limitations. For example, I will often recommend an applique (fabric sewn to the blank product) instead of creating a huge embroidered area that is as stiff as cardboard
Q: Can I still wash the textile product despite the embroidery or applique?
A: Yes. If you were able to wash the textile product before, then you can wash it after it has been embroidered. Sometimes an embroidered product will look better if you press it with an iron for a moment, but usually it's sufficient if you dry it while it is lying flat.