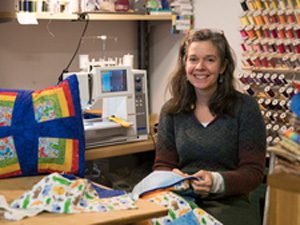 Please don't hesitate to contact me if there is anything you would like to know and can't find here. You can contact me in either English or German at claudia@handsgallery.de.
Read more about Claudia Ziersch and the products I create, find more information about the Hands Gallery artists' cooperative I founded in 2011 or read more about quilting, machine embroidery, free-motion embroidery, and textile art on the blog I post on the Hands Gallery page.
Are you looking for someone to make you a quilt, help you make your own quilt or for an embroidery service to personalize a textile product you already own? Take a look at some of my work in the photo gallery. If you are searching for a unique handmade textile gift, then visit my online shop on the Hands Gallery website.
Are you looking for a beginner's sewing course, a introduction to quilting or a class to learn more about free-motion machine embroidery? Then take a look at my courses or contact me directly at claudia@40stitches.de. I am also willing to tutor you on a one-on-one basis - helping you through the steps needed to create and finish a quilt.
You can also follow me on Instagram or Facebook. And if you are interested in hearing more about what I am up to, subscribe to the Hands Gallery Newsletter for monthly updates.